By Stephen Chakwas. Last Updated 6th January 2023. Did you sustain harm at work due to your employer breaching their duty of care? If so, our guide could help you understand the rights you have to seek compensation and the process that accident at work claims follow.
Every employer owes their employees a duty of care to keep them safe, so far as reasonably possible. However, accidents in the workplace aren't always the fault of the employer. Instead, they could have done everything they could to prevent you from coming to harm, in which case negligence hasn't occurred.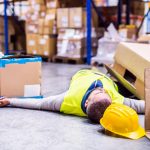 However, for a valid personal injury claim, you must be able to demonstrate negligence. Our guide will look at how this can be done, including the evidence you can obtain to build a strong case.
Additionally, we'll look at different types of workplace accidents and the injuries you could sustain. Furthermore, we'll look at examples of the compensation you could be awarded.
If you have any questions that haven't been answered in this guide, or you need further clarification, contact our team. They're available 24/7 to answer your queries, so get in touch using the contact details below:
Call the number at the top of this page
Please send us your enquiry by filling out the contact form
Speak to an advisor instantly by using the live chat feature below
Select a Section
What Is An Accident At Work?
An accident at work is when an employee is injured within their workplace. Such incidents could happen because their employer breached their duty of care or due to another contributing factor, such as individual carelessness, which would not be compensable.
Workplace accidents can happen in many different environments for many different reasons and cause a wide range of injuries. According to statistics reported by the Health and Safety Executive (HSE), there were 565,000 non-fatal injuries to workers reported in the 2021/22 period.
61,713 of the non-fatal employee injuries were reported by companies to the Reporting of Injuries, Diseases and Dangerous Occurrences Regulations (RIDDOR).
Legislation including the Health and Safety at Work etc. Act 1974 outlines an employer's duty of care. As part of this duty, employers should do everything reasonably possible to prevent their employees from coming into harm.
The specific actions an employer should take to prevent injuries as much as possible will vary depending on the nature of the organisation and the type of work environment it operates in. However, generally, it may include the following:
Carrying out risk assessments to identify potential hazards
Providing relevant training to employees, such as using equipment safely
Providing relevant equipment, such as safety goggles or hearing protection
What other legislation helps to prevent workplace accidents?
There have been numerous types of legislation put in place to prevent specific types of accidents and the development of occupational diseases, such as:
PUWER states equipment provided to employees must be suitable and safe for use. It should also be continuously maintained and inspected. This can prevent accidents involving a worker losing an arm due to a machine's 'stop' button being faulty.
COSHH includes rules and regulations for employers to put in place. The rules and regulations are to help protect people against the health risks associated with hazardous substances. For instance, industrial diseases such as occupational dermatitis or asbestos-related illnesses.
Additionally, MHOR sets out guidance for manual handling in the workplace. Manual handling might include lifting heavy objects. If an employer fails to comply, it could result in an employee sustaining an injured back.
These are just a few examples of accidents that could happen in the workplace if legislation is not followed. However, there are many more. Call our team to understand whether you could claim for the accident in which you suffered harm.
I Had An Accident At Work, What Are My Rights? – UK Claims
You might be wondering, 'I had an accident at work, what are my rights?'. In the UK, there is various legislation in place, as stated in the sections above, that sets out the legal duty of care that your employer owes to you. This legislation also outlines your right to make a claim if this duty of care is breached and you are harmed as a result. However, as a worker, you are entitled to other rights, such as:
Being protected from having unlawful deductions from your wages, for example, your employer cannot deduct from your wage just because you are pursuing a workplace accident claim
Statutory minimum rest breaks
Protection against being discriminated against, for example, your employer cannot discriminate against you if you seek trip or fall compensation
If you have any questions, get in touch with our advisors using the contact details in this guide. Otherwise, read on to find out more examples of accidents at work.
Accident At Work – Examples
You could possibly make a claim if you were injured at work as a direct result of your employer breaching their duty of care. There are various ways that you could suffer a work accident because of your employer's negligence. Examples can include:
Your employer failed to tidy away or secure some loose cable wires in the work environment. This could lead to a head injury at work or other injuries such as a broken leg if you end up tripping on one of these hazards.
Factory accident claims could be made because your employer failed to perform regular maintenance checks on the equipment that you must use to perform your work duties. If a machine were to malfunction, this could cause you to suffer from a crush injury or another type of injury. The employer could be considered negligent if it's reasonable to assess that they could have taken steps to prevent the use of the faulty equipment involved (by getting it fixed or replaced, for instance).
Claims for a factory accident or an accident in similar environments like a warehouse could also be made if injuries involving a hazard such as a spillage or loose item was involved. Depending on the exact circumstances, it could be determined that the employer did not provide an adequate response to the hazard (such as providing appropriate signage).
You could potentially make a claim if your employer failed to give you sufficient training. For instance, if manual handling is a part of your role, but your employer fails to give you the proper training, you could suffer a wide range of injuries such as a back injury if your role involves lifting heavy items.
Do not hesitate to contact our advisors today if you have any questions concerning your potential claim. Additionally, they could offer you free legal advice for an accident at work, as well as compensation examples for successful claims.
How Common Are Workplace Accidents?
According to the Labour Force Survey (LFS), there were 693,000 employee-reported accidents in 2019/2020. In addition, the LFS recorded an estimated 6.3 million working days lost due to non-fatal workplace injuries.
Additionally, there were 142 fatalities in the workplace in 2020/2021, according to the Reporting of Injuries, Diseases and Dangerous Occurrences Regulations (RIDDOR).
The graph below shows some of the most common non-fatal accidents reported by employers through RIDDOR.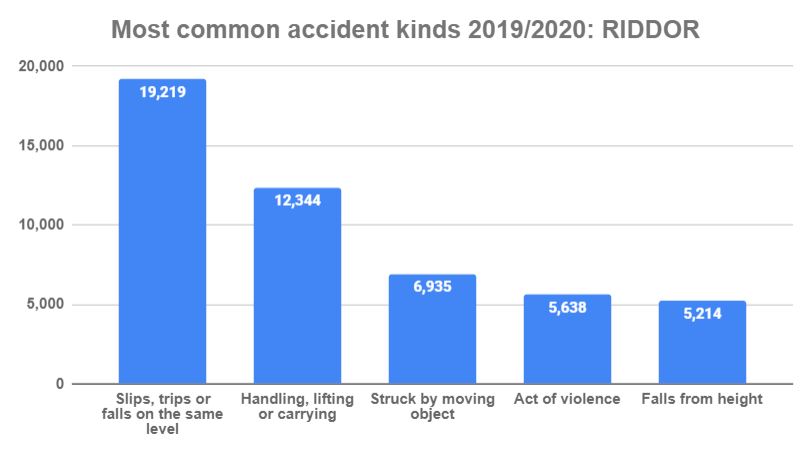 As you can see, slips, trips and falls on the same level were the most commonly reported. This could result in injuries such as:
A fractured arm after slipping on a wet floor due to your employer failing to display wet floor signs after a spill or leak.
A head injury after tripping over wires that haven't been tidied away.
Suffering an injury in a construction accident, like being struck by a heavy item like an RSJ beam, or being struck by a heavy plant vehicle like a digger.
Any of the incidents described above could justify accident at work claims.
Read more about what we can learn from accident at work statistics.
How Do You Prove An Injury At Work Claim?
In order to demonstrate that an employer has been negligent, you must be able to show three things.
Firstly, that you were owed a duty of care. Secondly, that the duty of care was breached. Lastly, you were harmed due to your employer's failings.
For this to be proven, it can help to provide evidence in support of your claim. The following types of evidence can help to prove whether someone breached their duty of care:
CCTV footage
Pictures of the accident scene
Pictures of your injuries
Log of your accident in the accident workbook
Witness details
Additionally, medical evidence can provide details on the injuries you sustained, as well as any diagnosis and treatment you were given. This might be in the form of doctor reports, hospital reports or prescriptions.
Furthermore, you may need to attend a medical assessment with an independent specialist as part of the claim. This can produce a report detailing the extent of your injuries or condition, as well as proving they were caused by the accident.
Using this report, your accident at work solicitor can value your claim alongside the Judicial College Guidelines (JCG) and other medical evidence. This will enable them to seek an accurate level of compensation on your behalf.
What Is The Time Limit For Accident At Work Claims?
As per the Limitation Act 1980, there is a three-year time limit for accident at work claims. The three years can start either from the date the accident happened or the date you learned about your employer's failings causing or contributing to the accident.
However, for anyone under the age of 18, there are exceptions to this. For instance, the three years won't start until they turn 18. Before this point, someone could apply to act as a litigation friend. This means someone can put forward the claim on their behalf, such as a parent, guardian or solicitor.
Otherwise, once they have turned 18, they will have three years starting from the date of their 18th birthday.
Similarly, the three-year time limit is frozen for anyone who lacks the mental capacity to claim. During this time, someone could apply to submit a claim on their behalf. If the person recovers their mental capacity, they will have three years from the date of their recovery. If they don't, the time limit will remain frozen.
As there are various exceptions, you can call our team on the number above for more information.
Accidents At Work Compensation Examples
For accident at work claims, you have the right to seek compensation for your injuries caused by an employer's negligence. In order to calculate your claim accurately, the following factors will be considered:
How severe your injury is
Whether your injury will impact you in the long term
To achieve this insight, medical records will be assessed to determine if you've received any diagnosis or treatment from your doctors prior to claiming. Furthermore, an additional medical assessment may be carried out as part of the claim to prove the accident caused the injuries and to determine the extent of your condition or injuries.
Alongside the medical evidence, a document called the Judicial College Guidelines may be used to help value your claim. We have used the figures from this document to give you an idea of what you could claim for different injuries.
However, you should only use the figures as a guide.
| | | |
| --- | --- | --- |
| Workplace injury | Further details | Compensation |
| Post-Traumatic Stress Disorder | Moderate: Symptoms might include disturbance to sleep, nightmares and suicidal ideation. However, the person will have mostly recovered with only minor persistence of some symptoms. | £7,680 to £21,730 |
| Eyes | Complete blindness in both eyes | In the region of £252,180 |
| Eyes | A minor eye injury such as being struck in the eye or splashed by liquids. Symptoms might include pain and vision impairment that's temporary. | £3,710 to £8,200 |
| Ears | Complete loss of hearing in both ears. | £85,170 to £102,890 |
| Partial hearing loss and/ or Tinnitus | (i) Severe tinnitus alongside noise-induced hearing loss. | £27,890 to £42,730 |
| Chest injuries | A traumatic injury to the chest causing permanent damage and reduced life expectancy. | £61,710 to £94,470 |
| Asbestos-Related Disease | Mesothelioma resulting in severe pain and has an impact on the person's quality of life. | £65,710 to £118,150 |
| Damage Resulting from Traumatic Injury | (i) Damage that's severe and causes ongoing pain. | £40,370 to £58,100 |
| Neck | Severe (iii) A fracture leading to a chronic condition. | £42,680 to £52,540 |
| Arm | Loss of one arm that's amputated below the elbow. | £90,250 to £102,890 |
| Hand-Arm Vibration Syndrome | Most serious: Symptoms that affect both arms, daily life and employment. | £29,690 to £36,060 |
| Work-Related Upper Limb Disorders | Carpal tunnel syndrome requiring surgery but doesn't relieve symptoms and leads to employment loss. | £20,560 to £21,700 |
Can I seek compensation for any financial losses?
If you've suffered any financial losses because of a workplace injury, you can seek compensation for them under special damages. For example, lost earnings due to being unable to work.
You could include any losses that have been directly incurred as a result of your injuries. For instance:
Care costs for you or someone else dependant on you
Travel expenses for getting to and from the likes of medical appointments
Medical costs such as walking aids, physiotherapy or counselling
Loss of pension if you're no longer able to work
Loss of attendance bonus if you had to take sick days
The cost of lost earnings if your employer didn't pay you while absent
Loss of future earnings if the accident at work left you with life-changing injuries
However, you will require evidence to support your claim for monetary losses such as receipts or payslips.
To learn what else you can factor into special damages, or if you'd like us to value your claim for you, get in touch.
No Win No Fee Arrangements In Accident At Work Claims
For anyone who wants to seek legal representation but is apprehensive due to the legal costs usually associated, there is an option that could help. Our advisors can connect you to a solicitor from our panel to represent you on a No Win No Fee basis.
This means you can avoid upfront costs and other costs you may incur during the course of your claim. Most importantly, if your claim is unsuccessful, you won't be asked to pay solicitor fees.
If your solicitor is successful when handling your claim, you will be required to pay a small success fee that's legally capped. The fee will be deducted from your overall compensation settlement. However, your solicitor will make you aware of this before starting your claim.
For more information on how you can connect with a solicitor from our panel, see below.
Connect With Accident At Work Claims Specialists
If you're ready to start your claim, an advisor can assess whether it has a chance of succeeding. If it does, they can connect you with one of the solicitors from our panel. The solicitor can then discuss the next stages of your claim.
Alternatively, if you require some further information, they can help with anything you're unsure of. Please don't hesitate to get in touch using the details below:
Call the number at the top of this page
Please send us your enquiry by filling out the contact form
Speak to an advisor instantly by using the live chat feature below
Further Reading On Personal Injury Law
For more workplace statistics, see the Health and Safety Executive website.
Visit the Royal Society for the Prevention of Accidents for more information on accident prevention in the workplace.
See the government guide on your rights as an employee.
We also have a bunch of guides on accident at work claims which you can read below:
We hope that reading our guide on accident at work claims has been helpful for you. If you would like additional information or want assistance in starting a potential work accident injury claim, then you can contact our advisors for help.
You are welcome to get in touch with our team either online or on the phone by using the contact details featured in within this guide.