By Lewis Holly. Last Updated 19th September 2022. Have you been injured at work? Did the accident that caused the injury result from your employer failing to fulfil the duty of care they owed you? If so, our guide aims to provide guidance on putting forward a manual handling claim to seek compensation.
Injuries sustained through manual handling at work may sometimes be unavoidable. However, in some cases, your employer could have prevented the accident that caused your injury. The duty of care they owe you involves taking reasonable steps to ensure you are kept safe from harm. 
You must be able to prove that your employer acted negligently. This means they breached their duty of care and caused an accident in which you sustained harm. If you're unsure of how to prove negligence, our guide could help. 
We'll look at other steps you can take to build a strong personal injury claim and get the compensation you deserve. For instance, gathering evidence that could help to support your claim and prove whether negligence occurred.
We aim to provide the information that you need in our guide. However, if you have any questions on anything regarding your accident, please don't hesitate to get in touch:
Call us on 0113 460 1215

Speak to an advisor live using the feature below

Complete the

contact

form to request a call-back
Alternatively, please continue reading to find out the rights you have following an accident at work. 
Select a Section
What Is A Manual Handling Injury? 
Manual handling might involve lifting, pulling or pushing heavy goods from one place to another. If these tasks are not carried out safely, it could result in someone suffering an injury. 
According to the Health and Safety Executive (HSE), manual handling causes more than one-third of workplace injuries. For instance, work-related Musculoskeletal Disorders (MSDs) such as:
Repetitive strain injury affecting the back, neck or arms

Injuries to the arms, legs and joints 
Depending on the specific circumstances, an employer may be liable for the accident at work that caused your injury.
As per the Health and Safety at Work etc. Act 1974, an employer is responsible for taking reasonable precautions to ensure their employees remain safe from avoidable harm. 
There are various ways an employer could have failed to take reasonable steps, leading to a manual handling accident. For instance, they:
Failed to provide their employees with the correct training on how to move and lift goods safely and in a way that minimises their risk of injury. 

Failed to provide employees with equipment they need to do their job safely, such as a ladder to retrieve goods from high shelves. 

Didn't carry out risk assessments to ensure the workspace is safe for employees to carry out duties, resulting in a

slip, trip or fall

while carrying heavy goods. 
In cases where the employer fails to do everything reasonably possible to prevent an accident causing harm, you could make a manual handling claim. 
Which Injuries Are Associated With Poor Manual Handling?
You might be wondering, 'how many injuries are caused by manual handling?'  According to the HSE, manual handling injuries account for over a third of all injuries in the workplace.
However, you may still be wondering, 'which injuries are associated with poor manual handling?' Below are some examples of how a manual handling accident could cause injuries:
Back injuries – If your employer doesn't provide adequate training on how to properly lift heavy loads, you may strain your back as a result.
Foot injuries – If your employer has not clearly marked heavy boxes to state what weight the contents is, you may drop the load onto your foot when you attempt to pick it up.
Hand injuries – If your employer has not carried out a risk assessment on the load, therefore failing to identify hazards such as sharp edges, you may cut your hands when you attempt to pick the load up.
If your manual handling injuries were caused by a similar scenario above, you may have grounds for a valid claim. However, don't worry if you can't see your own situation here. Our advisors can clarify if you're eligible to make an accident at work claim if you get in touch.
Proving Negligence In A Manual Handling Claim 
An important aspect of putting forward a solid manual handling claim is proving third party negligence. In order to do so, your claim must meet the following criteria:
You were owed a duty of care

Someone was in breach of duty

You sustained harm in an accident as a result
In order for a claim to meet these requirements, you must provide evidence to prove you sustained your injury in an accident caused by someone else's negligence. The evidence might include:
CCTV footage 

A copy of your accident recorded in the workplace accident book

Details of anyone who witnessed your accident 

Pictures of the accident

Pictures of your injuries 
Additionally, you must put forward your claim within three years as per the Limitation Act 1980. However, some exceptions may apply to your specific circumstances. For more information, contact our team on the number above.
An advisor can provide further guidance on the personal injury claims time limit and how you can access different evidence to support your claim. 
What Steps Should I Take Before Filing A Manual Handling Claim?
There are a few steps you can take before putting forward your manual handling claim, such as gathering evidence to prove negligence.
For instance, medical evidence can provide an insight into the state of your injuries and how they've impacted you. It might include reports from previous appointments at your GP or hospital, or prescriptions to highlight any treatment and diagnosis you were given. 
Additionally, you will usually be invited to attend an independent medical assessment as part of the claims process. This is used to create a detailed report on your injuries at the time of your claim. The report can show how badly the injury has affected your quality of life and whether there have been any ongoing issues. 
For instance, if you've had ongoing problems with your back that have meant you're unable to continue in the same line of employment. As a result, you had to retrain in a different job. 
Furthermore, you may also find it helpful to seek legal advice from a solicitor. If so, our panel of solicitors have experience in handling workplace accident claims.
For more information on how you could be connected with an expert solicitor from our panel, call our team on the number above.
Statistics For Manual Handling Injuries In The Workplace 
Manual handling injuries can include musculoskeletal disorders (MSDs) affecting the upper and lower limbs.
According to the Labour Force Survey (LFS), around 480,000 employees were suffering from new or long-standing work-related MSDs in the year 2019/2020. In addition, there were around 8.9 million days lost due to these disorders in 2019/2020.
Furthermore, LFS estimates that there are certain industries with higher than average rates for employees developing MSDs, such as:
Agriculture, forestry and fishing
Construction
Human health and social work activities
The graph below shows the most commonly reported accident kinds by employers through the Reporting of Injuries, Diseases and Dangerous Occurrences (RIDDOR).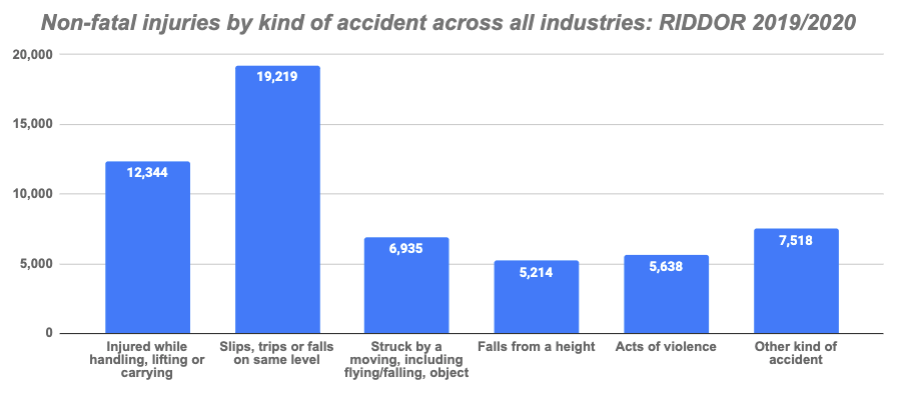 As you can see, non-fatal injuries while handling, lifting and carrying were the second most common kind of accident reported by employers.
How To Calculate Compensation In A Manual Handling Claims
Compensation settlements can include general and special damages. General damages cover the pain and suffering you've experienced as a result of your injuries. They also take into consideration the impact your injuries have had on your quality of life.
Special damages allow you to seek compensation for any past and future financial losses caused by the accident in which you suffered injuries. This might include:
Loss of earnings
Cost of any additional care
Travel expenses
Medical expenses
However, you will need to provide evidence of any monetary losses, such as payslips or receipts.
Below, we have included a table listing the value of different manual handling injuries using figures from the Judicial College Guidelines (JCG). This is a document often used to help value claims.
However, various factors and evidence will be considered when calculating your manual handling claim, so you should only use the figures in the table as an estimate.
Furthermore, the table doesn't cover special damages. These are worked out separately and added to your overall compensation settlement.
| Injury type | Additional comments | Compensation award |
| --- | --- | --- |
| Work-Related Upper Limb Disorders (WRUD) | (a) Where the effect of the WRUD has caused the loss of employment and continuing disability in both limbs even with surgery. | £20,560 to £21,700 |
| Work-Related Upper Limb Disorders (WRUD) | (b) Where the symptoms continue to have an impact but fluctuate in severity. | £13,970 to £15,330 |
| Work-Related Upper Limb Disorders (WRUD) | (c) Where the symptoms improve within three years. | £8,110 to £10,090 |
| Work-Related Upper Limb Disorders (WRUD) | (d) Where there is a complete recovery within a few weeks or months. | £2,070 to £3,310 |
| Back | (b) Moderate: (ii) Injuries such as symptoms of a pre-existing back condition being made worse. | £11,730 to £26,050 |
| Back | (c) Minor: (i) Injuries that recover fully within 5 years. | £7,410 to £11,730 |
The Benefits Of Working With A No Win No Fee Solicitor
We understand you may be apprehensive about hiring a solicitor due to the costs normally associated with their services.
However, if you decide to work with a solicitor who operates on a No Win No Fee basis, you can avoid paying any costs upfront or costs that may incur while your claim is ongoing.
Additionally, if your claim is unsuccessful, you won't be asked to pay solicitor fees. If your claim is successful, a success fee will be deducted from your compensation when the claim has settled.
However, your solicitor will make you aware of this legally capped fee before starting your claim as part of the agreement.
Most importantly, a solicitor can be beneficial in taking you through the process of putting forward a manual handling claim.
For more information, call our team on the number above. You could receive free legal advice from one of our advisors.
Get In Touch About Your Claim And Further Resources
We hope you've found our guide useful. However, if you require any further information, you can contact our expert team of advisors. They're available 24/7 to answer any queries you may have.
Additionally, they can assess how much your claim may be worth if you couldn't find your injury listed in the table above.
Furthermore, if you're interested in seeking help from a No Win No Fee solicitor, our team can assess whether the claim you hold is valid. If they find it has a chance of succeeding, they could appoint a solicitor from our panel to work with you on your case and get you the compensation you deserve.
So, why not contact us using the details below:
Call us on 0113 460 1215

Speak to an advisor live using the feature below

Complete the

contact

form to request a call-back
Additional Resources
See the HSE's guide on Manual Handling in the workplace.
For further support on living with an MSD, see the NHS website.
For guidance on whether you could be owed Statutory Sick Pay for any time taken off work, visit the government site.
We also have a bunch of guides on accident at work claims which you can read below:
Thank you for reading our guide on how to make a manual handling claim.
Guide by Mit
Checked by Sto