By Marlon Alvarado. Last Updated 14th September 2022. In this guide, we explain how to make a slip, trip and fall claim. If you sustained an injury after someone acted negligently, you could seek compensation. In order to be compensated for your injuries, the accident must have happened because of a breach of duty of care.
There are a number of situations where you are owed a duty of care; however, the responsibilities owed to you can vary depending on where the accident happened. Our guide will look at this in more detail so you can determine whether a third party was liable for your accident. 
Additionally, our guide will explore the evidence you need to support your claim. Evidence can be useful in proving that someone acted negligently and can also be used to help value your claim. For that reason, we'll look at the steps you can take to build a strong case. 
Most importantly, we'll provide details of how you could fund legal representation with a No Win No Fee solicitor. We'll also take a closer look at the benefits associated with making this kind of claim. 
If you have any questions regarding your personal injury claim, please don't hesitate to contact us using the button at the top of the page. There is a general three-year time limit to making a claim, so it's a good idea to begin the process as soon as possible. Otherwise, read on for more information about claiming for injuries sustained in slips, trips and falls. 
Select a Section
What Is A Slip, Trip and Fall Accident?
According to the Health and Safety Executive (HSE), slipping, tripping or falling are the most common causes of injury at work. They can be caused by things like wet or contaminated floors or poor maintenance. However, they can also lead to other accidents, such as causing someone to fall into moving machinery. 
They can occur without anyone being at fault. For example, you could experience slips, trips, and falls on an ice patch outside your home. However, in other circumstances, someone's negligence could cause or contribute to someone sustaining an injury. For instance, an employer or the owner of a public place could breach their duty of care towards you, causing you to slip and fall. 
Our guide will look at various types of slips, trips and falls that may have occurred due to someone else's negligence at work or in public.
However, if your accident type isn't mentioned in this guide, you can speak to our team. They can help you determine whether you have a valid slip, trip and fall claim. 
Slip, Trip and Fall Statistics
Slips, trips and falls can happen in various places. One place they can occur is in the workplace. 
Employers reported 65,427 Reporting of Injuries, Diseases and Dangerous Occurrences (RIDDOR) non-fatal injuries in 2019/2020. Of those, 29% were made up of slips, trips and falls on the same level, and a further 8% consisted of falls from a height. 
The graph below compares the number of non-fatal and fatal accidents that took place in 2019/2020. We have used figures from HSE to create this graph.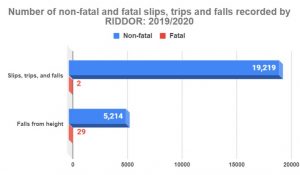 As you can see, most slips, trips and falls on the same level and falls from height were non-fatal. However, due to the common nature of these incidents, HSE has issued guidance on preventing them in the workplace.
For more information, visit the HSE website, where you can find further guidance on workplace accidents.
What Kinds Of Accidents Can Lead To A Slip, Trip and Fall Claim?
There are various ways someone's negligence could contribute to or cause a slip, trip or fall accident. For instance:
An employer who provided an employee with a ladder that they knew to be faulty. As a result, an employee fell from the ladder and broke their leg.  

A shop owner failed to put down a wet floor sign, causing a customer to slip and fracture their skull. 

The local council failed to maintain the safety of the pavements leading to you tripping over a 2-inch hazard and dislocating your shoulder. In this instance, you could claim for falling on the pavement.
A case study from HSE detailed a supermarket that was fined for using inappropriate flooring. The flooring made staff and customers more prone to slips, trips and falls if food and drink were spilt on them. 
This is a clear example showing a breach of the duty of care an employer owed both their staff and customers. 
How Do You Prove A Slip, Trip And Fall Claim?
In order to hold a valid personal injury claim, you need to be able to demonstrate that someone acted negligently. To establish this, you would need 
For employees, your employer has a responsibility to take all reasonable steps to keep you safe from harm as per the Health and Safety at Work Act 1974. When looking at preventing slips, trips or falls in the workplace, this could involve your employer:
Providing you with slip-resistant footwear, where relevant 

Carrying out risk assessments to determine and manage any risks 

Keeping equipment stored away safely to avoid trips 

Providing training on how to safely clean floors, where relevant 
On the other hand, if your accident happened in a public place, you may be unsure who owed you a duty of care. As per the Occupiers Liability Act 1957, the person in control of a public place has to do everything reasonably possible to keep you safe from harm. 
Generally, they should carry out regular slips, trips and falls risk assessments to manage any risks effectively. The risks may differ depending on the public place. However, they might include:
Wet floors in a restaurant or supermarket because water is tracked in from outside

Uneven paving stones on the street 

Defective maintenance holes 

A cluttered shop floor 
If someone breached the duty of care that they owed you, resulting in you suffering preventable harm, negligence may have occurred. For more information on determining whether your claim is valid, call our team using the number above. 
What evidence can help prove my claim?
When putting forward a slip, trip and fall claim, it's important to have evidence in support of your case. Different types of evidence can be used to prove negligence occurred, provide details of your injuries, and help value your compensation claim.
The following are examples of useful evidence you can use to prove someone acted negligently:
CCTV footage

Pictures of the accident

Details of any witnesses who saw the accident happen 

Records of the incident in an accident book
In addition, you will require medical evidence to highlight the extent of your injuries. For example, if you sought medical attention after the accident then these records could help build your claim. 
Furthermore, you may be asked to attend an additional independent assessment which can be used to determine any long term damage. It can also be used to value your claim. 
Trip Or Fall Compensation – How Much Could I Receive?
If you can successfully claim for a fall at work, your compensation may include two different heads.
The first is general damages – this is the amount you would receive as compensation for the pain and distress your injuries have caused you.
To show you how this could be awarded in a fall at work claim, we have created a table that shows the ranges for general damages for injuries that could be sustained in a trip or fall. The compensation listed comes from the 2022 edition of the Judicial College Guidelines – a document used by legal professionals to help value claims.
Injury
Notes
Award
Head: Less Severe
A head injury that leaves a person with concentration or memory problems
£15,320 to £43,060

Head: Minor
A head injury that may have had little to minimal brain damage but can leave the person suffering headaches
£2,210 to £12,770
Elbow: Less Severe
Injury affecting use of the elbow but does not require serious surgery
£15,650 to £32,010
Elbow: Moderate
A simple fracture or other common elbow injuries
Up to £12,590


Neck: Moderate (i)
Dislocation or fractures
£24,990 to
£38,490

Neck: Moderate (ii)
Soft tissue injury limiting movement of the neck
£13,740 to
£24,990

Back: Moderate (ii)
Longterm backache from disturbed back tissue
£12,510 to £27,760
Ankle: Moderate
A fracture or tear of the ligament causing long term damage
£13,740 to £26,590


Shoulder: Serious
Injury affecting the neck and shoulder
£12,770 to £19,200
Shoulder: Moderate
Soft tissue injury causing a frozen shoulder
£7,890 to £12,770
Special damages is the second head – this is an amount you could receive if your injury caused you some form of financial loss. This could include:
Treatment or care costs
The price of mobility aids
Affected income due to being unable to work
If you've experienced losses such as these, special damages could be included in your trip or fall compensation.
The figures we have given are general figures, if you would like to receive an estimate specific to your claim, then please reach out to a member of our team.
Make A No Win No Fee Slip, Trip and Fall Claim
You may like to have a solicitor represent you in your personal injury claim, but do not want to pay the upfront fees that this usually entails. If so, you might find a No Win No Fee agreement beneficial. 
This type of agreement can allow you to utilise the help and guidance of a solicitor whilst avoiding the upfront and ongoing costs this usually incurs. Additionally, if your claim fails, you won't be asked to pay your solicitor's fees. 
If your claim is successful, you'll be required to pay a small success fee. However, your solicitor will make you aware of the fee before you start your claim. It will be deducted from your compensation and you will always be guaranteed the majority of the compensation awarded to you.  
Please don't hesitate to get in touch with our team using the details below for more information.
Get More Help With Personal Injury Law
We hope this guide has helped you understand more about your rights after a slip, trip or fall caused by someone else's negligence. However, we understand that you may still have questions. If so, our team can help provide further clarification on anything you're unsure of.
Additionally, if you're ready to start your claim, our team can assess your case to see if the claim you hold is valid. Furthermore, if an advisor feels your claim has a chance of success, they can put you in touch with a personal injury solicitor from our panel to represent you on a No Win No Fee basis.
No matter whether you need further information or you want to take the next steps to seek compensation, our team can help. Please get in touch using the button at the top of this page.
More Resources On Personal Injury Compensation Claims
See the Compensation Recovery Unit (CRU) for some statistics on public liability claims.
Visit NHS 111 if you require any advice about where to go for help for your symptoms. 
If you're wondering 'how can slips, trips and falls be prevented at work?', see the Royal Society for the Prevention of Accidents (ROSPA).
We also have a bunch of guides on accident at work claims which you can read below:
Thank you for reading our guide on the process of making a slip, trip and fall claim. We hope you have found it helpful. 
Written by ELL
Edited by CKS