This guide will discuss serious injury claims and when you could be eligible to make one. We start by looking at the eligibility criteria you must satisfy to claim serious injury compensation. Following this, we provide a case study outlining the damages someone receives in a scenario where they suffer a serious injury due to third-party negligence.
Then, this guide explores how a value could be assigned to your injuries. Also, this guide highlights how evidence could be used to support your personal injury claim and what you could use.
To conclude, we look at how instructing a No Win No Fee legal professional, such as a solicitor, could benefit your serious injury claim should your case be eligible. Contact our advisors today to find out if you can work with a solicitor from our panel.
You can contact them now by:
Calling us on 01134601216
Making a claim using our online form

Speaking with us directly using the live chat feature on our website
Browse Our Guide
What Is The Eligibility Criteria For Making Serious Injury Claims?
A serious injury is one that has life-changing consequences, physically, psychologically or both. Such injuries include severe head traumas, brain and spinal cord damage. You could pursue compensation for your injuries if you can prove they were caused by third-party negligence. 
In successful serious injury claims, the following needs to be shown:
A duty of care was owed

This duty was breached

An injury was suffered as a result of this breach
Below, we explore the duty of care legally owed to you by third parties in different circumstances.
Accidents In A Public Place
Under the Occupiers' Liability Act 1957, parties in control of a space owe a duty to take steps to ensure the reasonable safety of visitors using the space for the purpose they're permitted to do so.
If those in control fail to adhere to this legal duty of care, they could be liable for injuries following an accident in a public place. For example, if they fail to ensure that wet floor signs are displayed after a floor has been mopped and you fall and suffer a serious head injury, you might be able to pursue serious injury compensation.
Road Traffic Accidents
Road users owe one another a duty of care to prevent injury and damage to themselves and others when navigating the roads. They must comply with the Road Traffic Act 1988 and the Highway Code to ensure they abide by this duty. 
Failure to comply with the above may result in a road user being liable for any injuries you suffer from a road traffic accident. For example, if a driver loses control of their vehicle due to speeding, crashes into you and causes you to suffer spinal cord damage during the car accident, you might be able to make a serious injury claim. 
Accidents At Work
Your employer owes a duty of care to take reasonable steps to ensure your safety, as found in the Health and Safety at Work etc. Act 1974. If they don't adhere to this legal duty and you suffer harm, you could sue them for a serious injury at work.
An example could be that they provide you with a ladder that they know to be faulty, which causes you to fall from a height and suffer a serious brain injury. In such circumstances, you could pursue personal injury compensation.
For more information on serious injury claims and to find out if you can make one, contact our advisors now. They could provide a free case assessment to uncover the validity of your case. If your case is eligible, they may offer to pass you over to a solicitor from our panel.
Case Study: £1.5 Million For A Serious Injury Claim
Mr Evans, 24, was a businessman who travelled globally and often stayed overnight in hotels. One evening he left his hotel room, and when walking down the stairs to the lobby, a faulty handrail he was leaning on gave way. This meant he fell from a height, and an ambulance was subsequently called.
Once at the hospital, it was found that Mr Evans had suffered multiple fractures to his arms, ribs and skull and severe brain injury. These injuries have left Mr Evans with impaired motor function, meaning he now fully depends on professional care for the rest of his life. 
When able, Mr Evans contacted serious injury solicitors who began his claim and gathered CCTV footage of the incident. This proved that the hotel's negligence caused Mr Evans's injuries, and meant his serious injury claim succeeded. He was awarded £1.5 million in damages. 
To find out if your case is eligible for the assistance of a No Win No Fee solicitor from our panel, contact our team of advisors now. They can also provide more information on serious injury claims if you have any questions.
What Compensation Could You Get From Serious Injury Claims?
Serious injury claims that succeed will be awarded settlements that contain up to two heads of claim. The first is called general damages, compensating you for the suffering and pain caused by your injuries. The amount you receive will be dependent on factors like:
The severity of your injuries

How long it takes you to recover

The treatments required to recover
To help work out how much your serious injury claim could be worth, the Judicial College Guidelines (JCG) could be utilised. This document takes awards previously given in court cases and provides valuation brackets for different injuries. Furthermore, a medical report could be obtained as part of the process to help hone in on a more definitive valuation.
Below is a table of guidance amounts extracted from the JCG for different injuries. Please note that due to the uniqueness of each case, we cannot guarantee the compensation you could receive.
Compensation Table
Below, you can find a compensation table detailing potential payouts in personal injury claims.
| Injury | Compensation | Notes |
| --- | --- | --- |
| Multiple Organ Injuries | Up to £1,000,000+ | Serious injuries to multiple organs and special damages compensating for financial losses. |
| Brain Damage, Very Severe | £282,010 to £403,990 | Requires full time nursing care, due to disability including double incontinence. |
| Brain Damage, Moderate (ii) | £90,720 to £150,110 | Moderate to modest intellectual deficit with the ability to work greatly reduced. |
| Neck, Severe (i) | In the region of £148,330 | Associated with incomplete paraplegia or where person has little neck movement, despite 24 hours a day wearing a collar for a period of years. |
| Neck, Severe (ii) | £65,740 to £130,930 | Serious fractures or damage in the cervical spine, giving rise to considerably severe disability. |
| Back, Severe (i) | £91,090 to £160,980 | Spinal cord and nerve root damage, leading to severe pain and disability. |
| Chest (a) | £100,670 to £150,110 | Total removal of one lung and/or serious heart damage. |
| Chest (b) | £65,740 to £100,670 | Traumatic injury involving chest, lung(s), and/or heart, that causes permanent damage and impaired function. |
| Kidney (a) | £169,400 to £210,400 | Loss of both kidneys or serious and permanent damage to them. |
| Loss of Earnings | Up to £100,000 and above | Due to missing work because of your injuries. |
Claiming Special Damages As Part Of Your Serious Injury Compensation
Settlements awarded in successful serious injury claims could also include special damages. This compensates you for reasonable losses incurred in the past and future due to third-party negligence. You should keep evidence of these losses to ensure you're fully compensated for them.
The following are examples of the evidence you may want to supply:
Receipts

Invoices

Payslips
Providing your case is eligible, a solicitor on our panel could gather evidence to support your serious injury claim as part of their service. Contact our advisors now to find out if you're eligible to claim.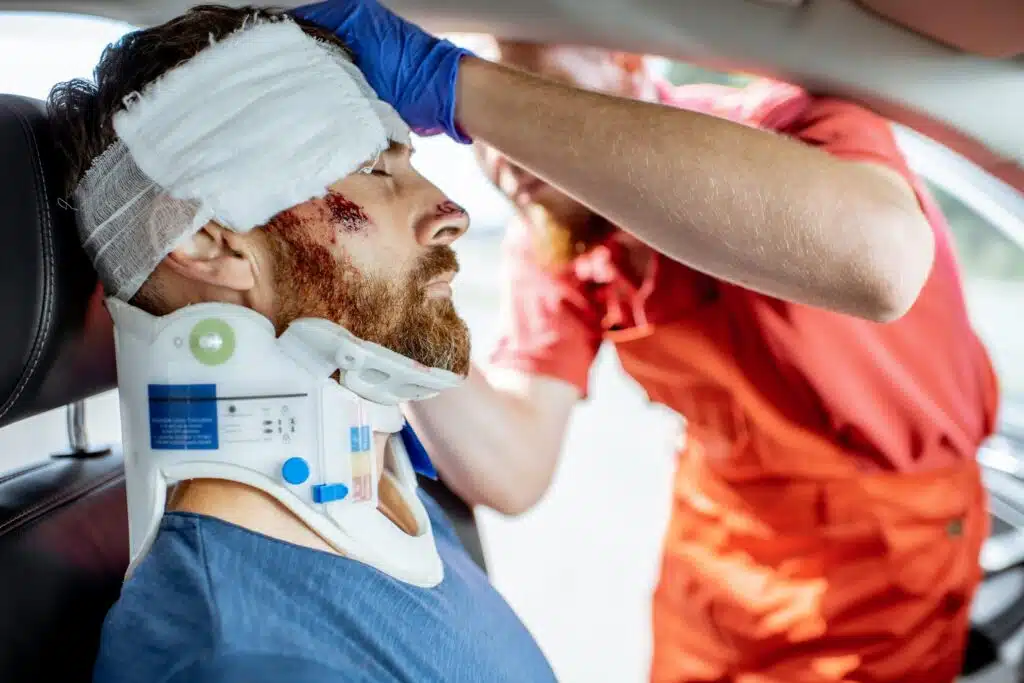 What Evidence Could Help You Claim For A Serious Injury?
To receive personal injury compensation, you need to be able to prove that third-party negligence caused your injuries. Evidence can help support serious injury claims by helping to show this. Consider gathering evidence like:
Witness contact details

Accident site photographs

Journal entries detailing your recovery and the impact the injuries have had on your life
If you're unsure what evidence is needed to support your case, contact one of our advisors, who could also provide a free consultation to determine the validity of your serious injury claim.
Use Serious Injury Solicitors To Work Your Case On A No Win No Fee Basis
If you have an eligible case, consider instructing No Win No Fee legal professionals, like the serious injury solicitors on our panel, to provide expert advice. A Conditional Fee Agreement is a type of No Win No Fee agreement, and it ensures:
No upfront legal fees are required to begin instruction

No running costs need to be paid to keep your case progressing

A percentage of your compensation, which is only small, legally capped and known as a success fee, will be taken by your solicitor if successful

No success fee will be taken if your case doesn't succeed
Our panel of experienced serious injury claims solicitors offer this type of agreement and only agree to work with you if they feel your case has a good chance of success. This means that if they agree to your instruction, you can be confident your time will be used effectively.
To find out if you can work with a solicitor from our panel, contact our team of advisors now by:
Calling us on 01134601216
Making a claim using our online form

Speaking with us directly using the live chat feature on our website
Learn More About How To Make A Serious Injury Claim
We hope this guide has answered your questions about serious injury claims. For more of our helpful guides, please look here:
For some external help, look below: