If you're interested in pursuing a personal injury claim for a council accident, this guide contains information you may find useful. We will discuss some accidents that could have been caused by the negligence of a council, how to prove a council breached the duty of care they owed to you and evidence that may help your potential claim.
To receive compensation for a local authority accident, you must show that a council somehow breached the duty of care it owed; furthermore, this breach in duty must have caused an injury. This is what is known as negligence. We will discuss this in greater detail in the following sections.
Keep reading to learn more about how to claim against a council. Alternatively, you contact our advisers directly to discuss your council accident by:
Choose A Section
Can I Sue For A Council Accident?
According to a piece of legislation called the Occupier's Liability Act 1957, a party in control of a public place owes a duty of care to visitors. They are known as the 'occupier' (although they don't need to be physically present in the space in order for the duty of care to apply), and local authorities can be classed as occupiers. You may be able to claim compensation for an accident in a public place if you are injured due to a council being negligent.
If you are wondering whether a council is liable in a personal injury claim, ask yourself these three questions:
Did a party owe me a duty of care in the place where I was injured?
Was this duty of care breached in some way?
Did I suffer physical or mental injury as a result of this breach?
If you can answer "yes" to all of the questions above, then you might have a valid case. Get in touch to discuss if you are eligible to begin a council accident claim.
Statistics About Injuries
A piece of legislation known as the Reporting of Injuries, Diseases, and Dangerous Occurrences 2013 (RIDDOR) states that certain accidents must be reported by employers to the Health and Safety Executive (HSE). Because of this, we are able to provide statistics for how many accidents occur in the workplace, which includes council employees injured while carrying out their duties.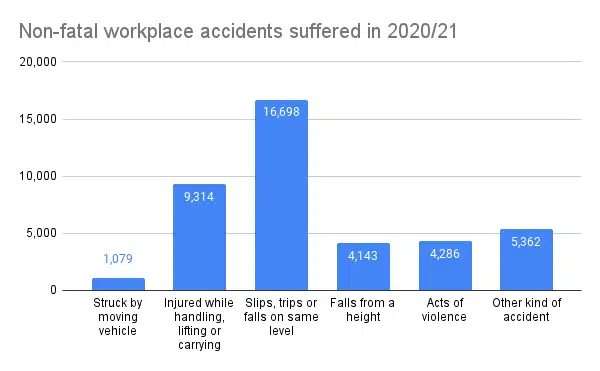 To learn more about if you can claim against a local council, contact our team of advisers today.
Examples Of Accidents On Council Property
Public place accidents could take many forms, and you may be able to make a local council accident claim if the accident occurred due to negligence on behalf of the responsible party. For example, you could:
Trip over a paving stone that has been reported to the council, who have not repaired the hazard in a timely manner
Sustain an injury from broken or defective equipment in a council leisure centre
Suffer an accident in a park caused by abandoned rubbish or broken glass that hasn't been cleared up in a reasonable timeframe
Slip and fall on ice due to a lack of gritting in a public car park, despite weather forecasts indicating that this would be necessary.
In each of these examples, you must be able to show that the council did not act in accordance with the duty of care they owe those who use the space for the purpose intended. For example, you may not be able to claim if you tripped on a loose paving stone that was not there the last time that the council performed an inspection on the street. This is because by performing regular checks, they may have taken steps to ensure your reasonable safety.
It is possible to sustain injuries from poorly maintained public areas. Such injuries could include:
To find out more about the local council accident compensation you could be eligible to claim, get in touch today. Our advisers can walk you through the steps you can take after an accident in a public space.
What Could Prove A Council's Breach Of Duty?
When considering making a claim for a council accident, it could be worth assessing how much evidence you have or could get in order to back up your claim. Some evidence that you could use includes:
Pictures of the accident location, including close-ups of the object that caused your injury. For example, placing a 50p coin next to a raised paving stone can show how high or deep it was
CCTV or dashcam footage that shows the accident
A medical report showing the extent of your injuries
A solicitor could help you gather the information that could help prove a personal injury claim. If you'd like to know more about getting legal representation for a council accident, talk to us today.
Settlement Amounts For Council Accidents
Council accident compensation consist of two heads of claim. These represent two different means of reimbursing you for your injury.
The first head of claim is called general damages, which are awarded as compensation for the pain your injury has caused. Below we've included a table of compensation brackets taken directly from the Judicial College Guidelines. The local council compensation negotiated by a solicitor will likely take into account the existence of these figures.
| Injury Type | Compensation Bracket | Notes |
| --- | --- | --- |
| Severe Knee Injuries (a) (i) | £69,730 to £96,210 | Joint disruption and ligament damage, with subsequent development of osteoarthritis and lengthy treatment. There is considerable pain and function loss. |
| Hand Injuries (b) | £55,820 to £84,570 | Serious damage to both hands, which results in significant loss of function. |
| Other Arm Injuries (b) | £39,170 to £59,860 | Serious injuries that lead to significant disability in one or both arms. |
| Severe Leg Injuries (b) (iii) | £39,200 to £54,830 | Compound or comminuted fractures, or joint/ligament injuries leading to instability; lengthy period of non-weight bearing, near-certainty of arthritis, and prolonged treatment. |
| Severe Leg Injuries (b) (iv) | £27,760 to £39,200 | Severe crushing injuries, multiple fractures, or complicated fractures, generally to one leg. |
| Severe Ankle Injuries (b) | £31,310 to £50,060 | Awards in this bracket require extensive treatment period and/or considerable time in plaster or with inserted pins and plates. Ankle instability and severely limited ability to walk. |
| Moderate Neck Injuries (b) (i) | £24,990 to £38,490 | Injuries that cause immediate and severe symptoms and which may require spinal fusion. Also, chronic injuries that lead to markedly impaired function. |
| Injuries to the Elbow (b) | £15,650 to £32,010 | Less severe injuries that cause functional impairment without serious disability or the need for major surgery. |
| Moderate Foot Injury (f) | £13,740 to £24,990 | Metatarsal fractures that cause permanent deformity and ongoing symptoms. |
| Nose Fractures (c) (i) | £10,640 to £23,130 | Serious fractures of the nose or nasal cavities that lead to breathing difficulties, permanent airway damage, and/or nerves, tear ducts, and facial deformity. |
We've included this table instead of including a personal injury claims calculator. Please remember these figures are guidelines only, as the JCG does not take into account specific circumstances.
The second head of claim is called special damages, and these may be awarded as a means to recompense you for injury-related financial losses. Some items that you could recoup include:
Lost earnings
Lost future earnings
Medical expenses, such as prescriptions
You should provide evidence of these costs and losses to ensure that you are fully compensated. Examples of evidence could include receipts, bank statements and payslips.
If you would like to know more, contact our advisers. If you're deemed to have a valid case for injuries caused by a council accident, you could be connected with a No Win No Fee lawyer from our panel.
Will No Win No Fee Solicitors Handle Council Claims?
If your accident was caused by council negligence, we might be able to help. Our advisers may pass your potential council accident claim onto our panel of solicitors, who will talk to you about your options. One of these may be to enter into a No Win No Fee agreement.
The kind of agreement that a No Win No Fee solicitor from our panel uses is called a Conditional Fee Agreement (CFA). When you retain legal representation under this agreement, you do not usually have to pay for a solicitor's services to begin a claim or during the claim process. You also generally do not pay if your claim fails.
The solicitor will take a small percentage of your compensation amount if you are awarded compensation in a successful claim. This amount that they can deduct is capped by law.
Contact Us To Make A Claim Against A Council
If you'd like to talk about your potential claim against a local council, get in touch with our advisers. They are well-versed in the details surrounding a potential local council claim and can discuss the options you may have. Contact our advisers by:
Additional Information About Council Accident Claims
Other relevant guides:
I Had An Accident On Public Transport; Can I Make A Claim?
Examples Of A Life-Changing Injury That You Can Claim Compensation For
What Could I Get For A Shopping Centre Accident Claim?
Information that may be useful:
Litigation Friend – Government information about making a claim on behalf of a child or someone who lacks the mental capacity to claim for themselves
Statutory Sick Pay – Guidance about receiving statutory sick pay after a work absence
Walk-in Centre: When To Visit – NHS information about when to visit an urgent treatment centre
We hope you've found useful information in this article about making a council accident personal injury claim. To learn more, contact our team of advisers today.
Writer Morgan Fringe 
Publisher Fern Stringer