Welcome to our guide exploring personal injury claims against the council. Our guide could help you understand the rights you've had after sustaining an injury due to your local council failing to uphold their duty of care. 
This guide will look at different types of personal injury claims that may be made against the council, such as public park or road traffic accident claims.
As some accidents may not have been the fault of a third party, seeking compensation isn't always possible. However, our guide aims to help you understand when the council may have been liable for the accident that caused your injury. 
Additionally, even when the council is liable, you must have evidence to support your claim. Our guide will help you understand how to construct a strong case and get you the compensation you deserve.
However, if you require any further information, you can contact our team of advisors by:
Select a Section
An Introduction To Council Compensation Claims 
The council has a legal responsibility to protect members of the public from experiencing harm in spaces they have control over. If they fail to do so, they could be held liable for the accident that caused an injury. 
If this is the case for you, you may be able to seek compensation by pursuing a personal injury claim against the council. However, all valid claims must meet the following criteria:
The council owed you a duty of care

They were in breach of the duty of care they owed you

You sustained physical or psychological harm as a result
If you're unsure of whether your claim and evidence prove that the council acted negligently, our guide could help. We'll explore different examples of valid claims against the council for personal injury. 
Additionally, we understand that you may want to get an estimate of the compensation payout you may receive. For that reason, we've aimed to provide you with an idea of how much your claim may be worth. 
Before we continue, it's important that you're aware of the time limits in personal injury claims. As per the Limitation Act 1980, you'll have three years, either from the date:
That the accident happened  

That you became aware that someone else's negligence caused or contributed to your injuries.
However, some exceptions may apply to your case. For more information, you can contact our expert team using the number at the top of the page. 
Types Of Personal Injury Claims Against A Local Council
As outlined in the Occupiers Liability Act 1957, local councils that have control over public spaces have a duty of care to members of the public. They must do everything reasonably possible to keep members of the public safe while using the space for the intended purpose. 
The steps they need to take may vary depending on the place. However, in most cases, they should ensure they carry out regular risk assessments to check for hazards that could lead to an accident. Furthermore, they should aim to put measures in place to deal with any risks in a reasonable amount of time. If a hazard cannot be removed or reduced (for example, a high step), it should be signposted. 
By failing to do so, they could cause various types of accidents causing someone to suffer an injury. Accidents might include slips, trips and falls or road traffic accidents which could occur in a multitude of council-controlled places, such as:
Public streets: S

omeone could fall down a faulty maintenance hole and break their leg. Alternatively, someone could trip over an uneven paving stone and sustain a head injury.

Public parks: A

child could trip over a broken swing left in the middle of the public play area.
Local roads: Someone could be involved in a road traffic accident due to potholes on the road or poorly managed road works.
The council has a responsibility to oversee the health and safety within public areas. If they don't, it could cause someone serious harm, leading to them putting forward a claim against the council. 
If you have evidence to prove that the council was at fault for the accident in which you sustained an injury, call our team. They can assess your claim and determine whether you're eligible to sue your local council for negligence. 
Is It Common For People To Make Claims Against The Council? 
According to the Compensation Recovery Unit (CRU), 51,286 public liability cases were registered in 2020/2021. However, this was less than the 72,587 registered in 2019/2020. 
The Compensation Recovery Unit recover benefits that have been made to people after accidents where the person has also made a compensation claim. Therefore, these statistics won't represent the total number of claims made in this period. 
The graph below compares the number of cases settled in 2019/2020 and 2020/2021.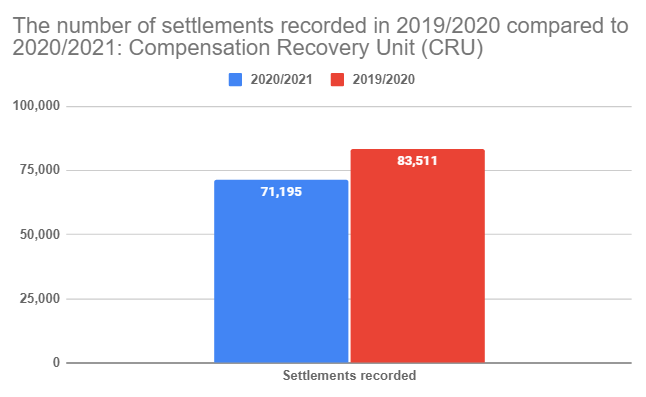 As you can see, the number of cases settled reduced in 2020/2021 as well. Despite the drop in public cases registered and settled, the figures highlight the frequency with which public claims, including claims against the council, may be made. 
Evidence For A Claim Against A Local Council
There are various steps you could take when building a strong claim against the council. For instance, some pieces of evidence could help to prove the council breached their duty of care, resulting in an accident that caused you harm.
For instance, if you sought medical attention for your injury, the details will be recorded in the form of a doctor or hospital report. If so, this can highlight the nature of your injury, such as any diagnosis or treatment you received. 
In addition, you may be asked to attend another medical assessment that's completed independently. This can provide a report on the current state of your injury. Furthermore, it can be particularly useful if your injury occurred a while ago.
Other evidence that could prove someone acted negligently might include:
CCTV or dashcam footage

Pictures of the accident

Pictures of your injury

Details of anyone who witnessed the injury. 
As well as building up a bank of evidence, it may be beneficial to seek legal representation. However, we understand that you may feel apprehensive due to the fees sometimes associated with solicitor services. 
If this is the case, we have explored the alternative option of claims against the council made under a No Win No Fee agreement further down in our guide. 
Please continue reading for more information. Alternatively, please speak to our team using the number listed above.  
Estimated Compensation Payouts For Council Claims
All claims against the council are unique; however, they can include general and special damages. General damages compensate you for your physical or psychological injury and how badly it's impacted your quality of life. 
Additionally, if you experienced any financial difficulties as a result of your injuries, you can seek reimbursement for them under special damages. They cover both past and future losses, such as:
Lost earnings

Care expenses

Medical costs 

Travel expenses
We have created a table listing different injuries you may have sustained due to your local council's negligence. Furthermore, the table includes example figures of what each injury may be worth as per the Judicial College Guidelines. This is a document often used to help value claims.
| Injury type | Additional details | Example award |
| --- | --- | --- |
| Minor head injury | The award given may depend on different factors such as recovery time, severity and whether there are any ongoing symptoms. | £2,070 to £11,980 |
| Shoulder injuries | (b) A seriously dislocated shoulder alongside damage to the lower brachial plexus which results in shoulder and neck pain and other symptoms. | £11,980 to £18,020 |
| Shoulder injuries | Clavicle fracture | £4,830 to £11,490 |
| Pelvis and hip bone injuries | (a) Severe (i) An extensive pelvis fracture which causes other injuries. | £73,580 to £122,860 |
| Arm injuries | (b) A serious fracture affecting both forearms causing permanent and substantial disability. | £36,770 to £56,180 |
| Wrist injuries | (e) A Colles' fracture that does not cause any further complications. | In the region of £6,970 |
| Leg injuries | (c) Less serious (ii) Simple femur fracture | £8,550 to £13,210 |
| Achilles tendon | (d) Minor: Where the ankle has turned causing some tendon damage and the need for ankle support. | £6,820 to £11,820 |
However, the examples in the table aren't a guarantee as different factors may influence the payout you receive, such as:
The nature of your injury

The severity of your injury

If the injury has caused any long-term damage
For that reason, you should only use the figures as a guide. Additionally, if you seek compensation for any financial losses, these will be calculated separately and added to your overall settlement figure. Therefore, your actual settlement will vary. 
How To Make No Win No Fee Claims Against The Local Council
The term No Win No Fee means that if your solicitor fails to win your claim, you won't be asked to pay solicitor fees. If your solicitor is successful with your claim, a success fee will be deducted from your settlement, and your solicitor will make you aware of how the fee works. 
Furthermore, whilst there is no initial cost to bear when claiming without a solicitor, other costs could incur during your claim. Under this agreement, you can avoid these costs as well as any upfront fees.
All of the personal injury solicitors from our panel operate on this basis, so an advisor can put you in touch if they feel your claim is valid and has a chance of succeeding. For more information on working with an expert personal injury solicitor, see below for how you can contact us. 
Contact Us And Further Information
We hope you've found our guide on claims against the council helpful. However, we understand that you may still have questions. 
If so, you can speak to a member of our team by getting in touch on the details below:
Telephone – 0113 460 1215

Fill out the online

contact

form 

Use the live chat feature to speak to an advisor below
Additional Resources
Visit the NHS website for information on when to go to an urgent treatment centre.
Use the free government tool to determine whether you're eligible to seek compensation against your local council for negligence.
For advice on accident prevention, visit the Royal Society for the Prevention of Accidents (ROSPA).
Below, you can find links to some of our other public liability claims guides:
Thank you for reading our guide exploring claims against the council. 
Written by MEG
Published by FER