By Stephen Chakwas. Last Updated 6th January 2023. This guide to bus accident claims informs you of your legal rights if you've suffered an injury while using this form of public transport.
If you have been injured due to an accident on a bus, you could be owed compensation if you were not at fault and another party's negligence was the cause. All road users have a legal duty of care that they owe to one another. This includes those who drive public transport vehicles including buses.
The duty of care extends to bus drivers having to act and drive in a way that keeps the risk of their passengers and others on road being injured to a minimum.
If this duty of care is breached, then you could be injured. Therefore, it's possible that you could be owed compensation for your physical pain and mental suffering. You may also be able to claim back any costs that are directly associated with your injuries.
Knowing when you have a legitimate claim may seem confusing, but we are here to explain the circumstances that could entitle you to claim. Speaking with us directly is the best way for you to receive guidance specific to your situation. Our contact information is below:
Call us on the number at the top of the page

Contact us

through our website

Use the pop-up chat window in the corner
Choose A Section
Can I Claim Compensation For An Accident On A Bus?
As mentioned above, a claim for injuries sustained in a bus or coach accident must stem from a breach of a duty of care. For road users such as bus drivers, this duty of care can be upheld by following the guidelines laid out in the Highway Code.
Whilst not everything in the code is legally binding, breaking any of these rules might result in a driver being found responsible for a road traffic accident that occurs as a result of their negligence. 
If your accident on a bus occurred because the driver was not adhering to the rules set out in the Highway Code, then this could be considered a breach of their duty of care. If their negligence leads to injuries, you might be eligible to claim bus accident compensation for the harm you were caused.
Bus Injury And Accident Statistics
We can see by government statistics that casualties to bus and coach occupants have been generally on the decline in recent years. From January-June of 2021, there was a reduction of at least 51% in each month when compared to the average of 2017-2019.
You can see these figures in more detail in the graph below.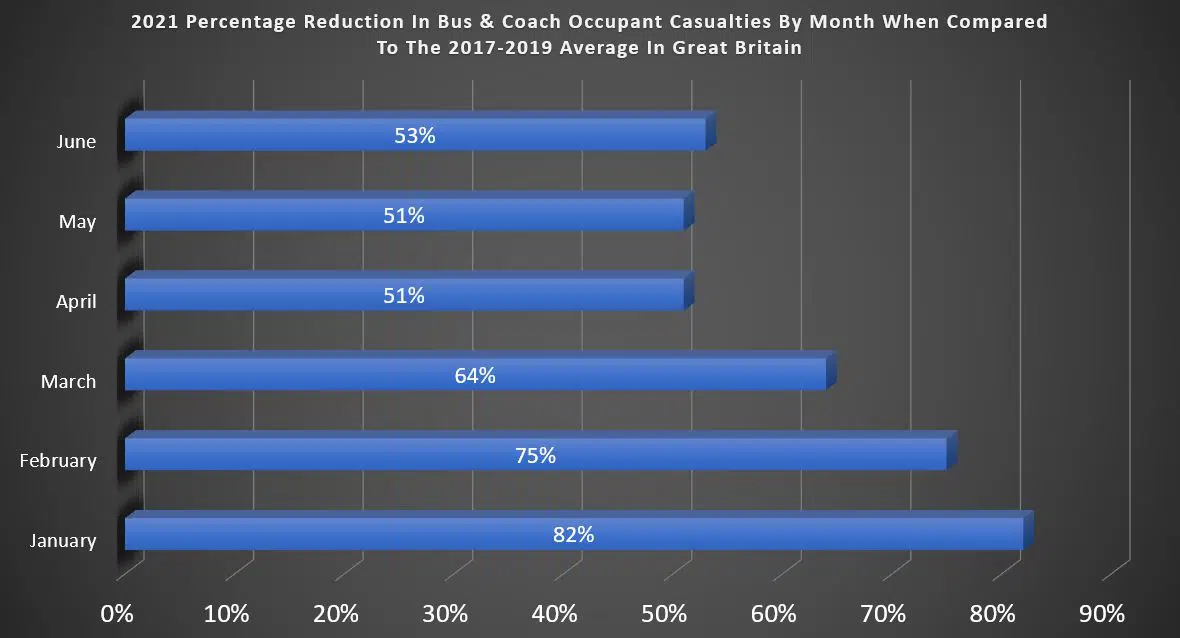 For more information on claiming compensation for an accident on a bus, get in touch with our team.
Examples Of Bus Accidents And Injuries
This section includes some examples of injuries that could be sustained due to an accident on a bus.
Broken bones or fractures – for example, the force of an impact could throw you from your seat and cause broken bones such as a knee fracture injury.
Cuts/lacerations –

the glass in the bus windows could be shattered during the accident. This could lead to the shards cutting your skin, causing blood loss and scarring.

Paralysis –

damage to the neck or back could result in temporary or permanent loss of sensation or use in various areas of the body, including your limbs.

Psychological damage –

conditions such as

post-traumatic stress disorder

(PTSD) can arise as a result of the mental trauma you're put through during the accident.

Death –

some extreme scenarios could lead to fatalities. A

fatal claim

can still be made on behalf of the deceased person.
It's important to note that it is not only the driver of the bus who can be at fault when making a potential claim. For example, bus accident claims could potentially be made against the driver of another vehicle if their actions are what ultimately caused the bus accident that injured you.
Alternatively, the accident could have been caused due to unsuitable road conditions. It may be the responsibility of the local council to make sure that roads are maintained to an acceptable standard, for example, by repairing potholes. 
For more information on claiming for injuries sustained in an accident on a bus, speak with an advisor today.
How To Prove A Bus Accident Claim
In order to prove your personal injury claim, you'll need to acquire evidence. There are a few different forms that you may find useful in supporting your claim.
Examples include:
Medical reports –

these will be generated by you receiving medical treatment. They'll contain information such as how you were treated, the extent of your injuries, the medication you were prescribed, and so on.

CCTV footage –

you have a legal right to request CCTV footage of yourself.

Photographs –

pictures of the cause of the accident and of your visible injuries can come in very useful.

Witness statements –

the written account of others involved in the accident.

You may also be invited to attend an independent medical assessment. This is so that your injuries can be verified. The report from this assessment will be used to value your claim. 
If you'd like more information on claiming compensation for harm caused by an accident on a bus, get in touch today.
Bus Accident Compensation – How Long Do I Have To Claim?
An important part of successfully making a personal injury claim is making sure that it is started within the time limit. Generally, you should start your bus accident claim within 3 years of the accident occurring or within 3 years of the date of knowledge. This is generally treated as the date you received a medical diagnosis for your injuries and became aware of what caused the injury. This is according to the Limitation Act 1980.
However, exceptions can be made in extenuating circumstances. If, for example, a person was mentally or physically unable to begin their claim within the given time limit, then their time limit may be suspended. A litigation friend can be appointed by their family or by the courts to represent them while they lack capacity, but their time limit will resume when they regain their mental or physical capacity.
This time limit will also be suspended for those under the age of 18 at the time of their accident. A person under the age of 18 cannot represent themselves in a personal injury claim; their time limit will only begin on the date they turn 18. However, a litigation friend can also be appointed to start a claim on their behalf for the bus accident, with any compensation held in Court Funds Office account until they turn 18.
Please reach out to a member of our team for any further inquiries you may have about a time limit or bus accident claims in general.
Compensation Payouts After An Accident On A Bus
Compensation for an accident on a bus can be made up of more than one figure. Firstly, there is the amount that's calculated to account for your injuries – both psychological and physical. It's known as general damages. Legal professionals use a publication called the Judicial College Guidelines (JCG) to assist them in valuing this head of your claim.
The JCG contains possible values for a variety of injuries that could be caused by negligence. Things like the severity of the injury can affect how much the injury could be worth. In general, more serious injuries tend to be worth more in compensation. We've included some example entries in the table below.
| Injury | Description | Amount |
| --- | --- | --- |
| Paraplegia | The person's age, life expectancy, degree of independence and extent of pain experienced will affect how much is awarded. | £219,070 to £284,260 |
| Brain Damage - Moderately Severe | The person will significantly depend on others for care. They may also experience limb paralysis and a cognitive impairment. | £219,070 to £282,010 |
| Brain Damage - Less Severe | The person will have made a good recovery and will be table to participate in normal working/social life. However, they may still struggle with memory and concentration issues. | £15,320 to £43,060 |
| Back Injury - Severe (iii) | Disc fractures or lesions that cause severe pain and discomfort with impaired agility regardless of whether the person has undergone treatment or not. | £38,780 to £69,730 |
| Post-traumatic stress disorder - Moderately Severe | With professional help, there is room for some recovery. However, the person is still likely to suffer with various issues for the foreseeable future. | £23,150 to £59,860 |
| Neck Injury - Moderate (ii) | A wrenching type or soft tissue injury that result in permanent pain, limited neck movement and discomfort. | £13,740 to £24,990 |
| Skeletal Injury | Multiple facial bone fractures that result in a permanent facial deformity. | £14,900 to £23,950 |
| Arm Injury | Simple fractures of the forearm | £6,610 to £19,200 |
| Shoulder Injury - Fracture of Clavicle | How much is awarded will depend on any residual symptoms, level of disability and the extent of the fracture. | £5,150 to £12,240 |
| Chest Injury | The ribs have been fractured, or a soft tissue injury in the chest that causes significant pain for a few weeks. | Up to £3,950 |
Bus Accident Claims – Other Compensation Examples
Settlements for bus accident claims could also include special damages.
Special damages aim to compensate you for any of the financial losses you have suffered as a direct result of your bus injury. Claims for special damages could be for:
A loss of past and future earnings if you've had to take time off work.
Medical costs – this could be prescription costs or paying for private medical care.
Home adaptations or equipment needed to cope with your injury.
Travel expenses – this could be taxis that you've needed to take to medical appointments if you have been left unable to drive.
You should provide evidence of these financial losses to support your chances of successfully claiming special damages. Evidence could include receipts, payslips, bank statements or invoices.
Contact our advisors today for more information about claims against bus companies. They could also offer you free legal advice concerning your potential claim.
How Do No Win No Fee Claims Work?
All of the bus accident personal injury solicitors on our panel operate under a No Win No Fee agreement. This means that you usually aren't required to pay them to cover their legal fees if you are not awarded compensation.
If your claim is a success, their payment is usually covered by a percentage taken from your settlement. This percentage is subject to a legal cap. Confirmation of how payment works should be outlined in the agreement you sign with your solicitor when they take on your case.
Making a claim without legal representation is permitted. However, hiring the support of a solicitor who has experience in handling cases related to road traffic accidents, such as bus accident claims, can help to make the process a much smoother one. If a road traffic accident solicitor agrees to take on your case, then they can guide you through each key step required to make your claim possible. If you hire a No Win No Fee solicitor, then you won't be expected to pay upfront for this kind of guidance and support.
Get in touch today to see if you could make a No Win No Fee bus accident claim. Our team of advisors can talk you through your potential case and any details you wish to clarify. If our advisors determine that you have a strong case, then they could potentially arrange to connect you with a solicitor from our panel.
Speak To Us To About A Bus Accident Claim
If you would like to find out more, you can:
Call us on the number at the top of the page

Contact us

through our website

Use the pop-up chat window in the corner 
Learn More About Claims Involving An Accident On A Bus
The links below will take you to more information on the topic of being involved in an accident on a bus and related subjects.
Advice from the

NHS on broken bones

.

Find out more about how a

litigation friend

could claim on your behalf.

Read about

whiplash

symptoms and what to do if you sustain this kind of injury.
We also have other guides on personal injury claims which are available to read, and you can check out some of them via the links below: